Yoga Crow Pose Arm Balance (Bakasana)
Improving Your Arm Balance From Beginner to Advanced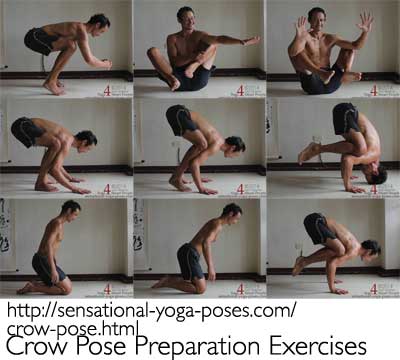 In yoga crow pose arm balance (Bakasana) the knees rest on the backs of the upper arms while the hands support the whole body.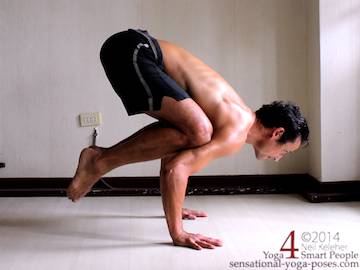 For beginners crow pose can be done with elbows bent and upper arms horizontal, forming a shelf or ledge for the legs.
In a more advanced version of yoga crow pose arm balance, the elbows are straight with the knees perched on the back of the arms just below the shoulders (different body portions may force slightly different positions of the knees on the arms.)
Compared to a pose where the knees or shins aren't resting on the arms, crow pose arm balance is actually easier because the arms act as a shelf or ledge to support the legs.
This is as opposed to the legs dangling, which means that arms, shoulders, and muscles of the torso and abdomen have to do more work.