Yoga for Flexibility
Stretching to improve flexibility, muscle control and body awareness
Published: 2014 06 28
Updated: 2020 04 22
This Yoga for flexibility page is divided into two main sections. For the basics of stretching (i.e. general principles) check out the Stretch basics section.
For stretches categorized according to body part check out the Stretching section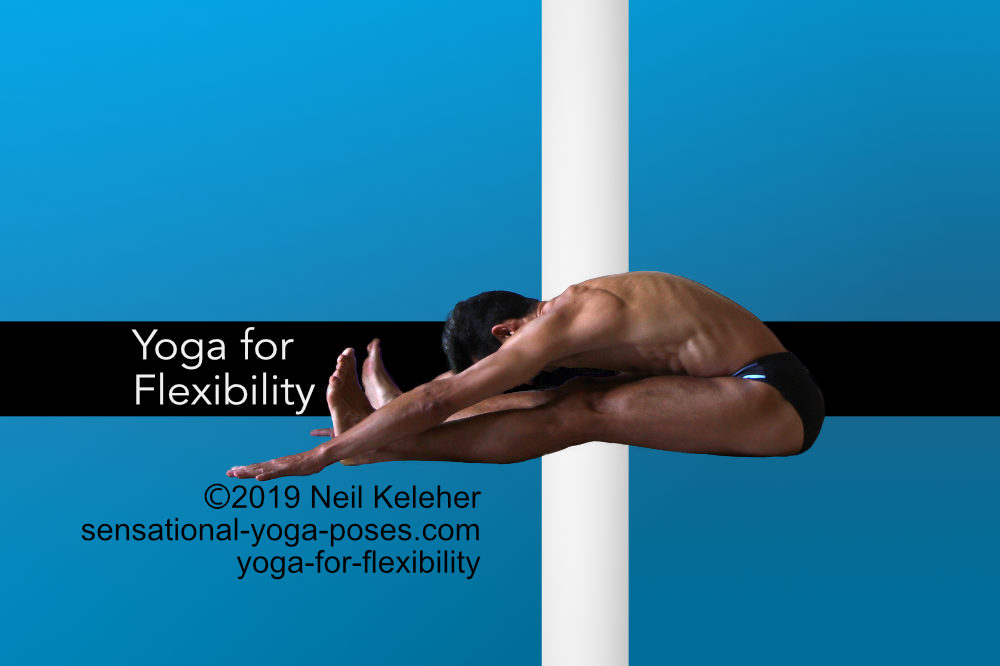 Stretch basicsTOC
For stretches categorized by body part click : Stretching by body part
For an overview of how to stretch (and what to do while stretching) take a peak at a quick guide to stretching.
Flexibility is the ability to resist being stretched. The greater the range through which you can resist being stretched, the more flexible you are. That may sound kind of strange but if you stretch an elastic band, does it not resist being stretched?
Note that being able to flop into the splits isn't so much flexibility as it is being able to relax muscles even when they are lengthened. It's like being a piece of string. You can bend it any which way, and it doesn't resist.
Now this isn't to say that being able to flop into the splits is a bad thing. If you can flop into the splits, and also resist going into the splits, I'd say that then you have the best of both worlds.
And so one way to think of flexibility is that it is the ability to both resist being stretched and to relax across a large range of motion.
The more control you have of your muscles (which, remember, is both the ability to relax muscles and activate them) and the larger the range of motion you can control them through, the more flexible you are.
To find out more about what flexibility is, and why your brain might limit it, read what is flexibility?
If flexibility is muscle control through a greater range of motion, one way to get more flexible is to increase your control within your current "flexibility limits." Instead of stretching, you're simply improving your ability to control your body. While you may not be able to get more flexible without actually "stretching", if you focus on feeling and controlling your muscles, you may find that get more flexible is a little bit easier (and a lot less uncomfortable).
Do you need a stretching routine suitable for beginners? Stretching for beginners includes a sequence of stretches with detailed instructions for each pose.
Stretching for beginners includes also some simple muscle control techniques that can make it easier to feel (and control) your body.
You can always leave out any of the stretches that cause pain. Plus there are options if your flexibility is really limited.
When using opposing muscle activation to stretch a muscle it helps to understand reciprocal inhibition.
A lot of people assume that because of reciprocal inhibition, when one muscle activates, the opposing muscles automatically relax. In reciprocal inhibition it's explained why this isn't always the case.
Understanding this one simple thing is one of the keys to understanding muscle control in general!
To improve flexibility a little more easily it can help to understand 10 Muscle Control Principles.
Why understand these muscle control principles? It makes it easier to feel and control your muscles in general! And if you have problems, it gives you some general tools to help solve those problems.
For a sequence of basic yoga stretches read:
A good question to ask about stretching and getting more flexible is why? Why bother getting more flexible (or trying to)? Here are Three reasons why you should improve flexibility. This isn't to say that you should. Just why you might want to.
Stretching Techniques explains the principles behind different stretching techniques.
For more tips on stretching to improve flexibility, read flexibility tips.
Also check out Stretching for flexibility