Headstand Yoga Pose
Creating Stability So You Can Find Balance In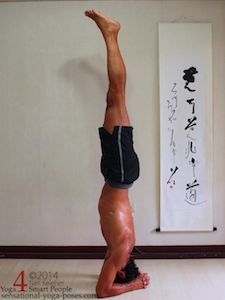 In headstand yoga pose, particularly bound headstand, which is a fairly common inverted yoga pose, the elbows and hands form a triangle shape.
If the elbows are too wide then we lose the triangle shape and the foundation becomes more of straight line, offering as much stability as standing on a single skate.
If the elbows are about shoulder width apart then the triangle forms a base that potentially gives the pose stability both in the front to back direction (longitudinal) as well as the left/right direction (transverse.) I say potentially because just configuring the head and arms in a triangle shape isn't enough to balance in this pose.
To stay balanced in this pose the elbows have to press down into the floor.
What creates the pushing force that drives the elbows into the floor?