How to Do a Headstand
Preparations and Getting Used to Being Upside Down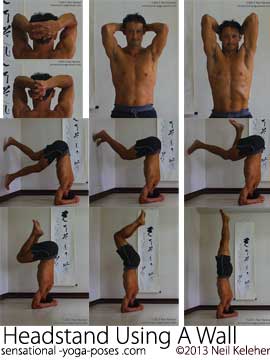 How do you do a heastand? With your head on the floor, press your head and elbows down with equal pressure, and keep the pressure equal as you lift your feet.
If you lack flexibility, shoulder awareness and neck awareness it can be a little difficult to learn. But that's part of the fun. I actually learned by falling lots. (If you take that route make sure that you know how to fall safely. Learn how to roll out.)
Another option, while learning to use your shoulders and neck, is to practice using a wall. Below I talk about all the steps necessary for how to do a headstand. And I also include tips on how to move away from using a wall.
But first of all, why use a wall?