Internal Obliques
Using Them To Help Twist Your Ribcage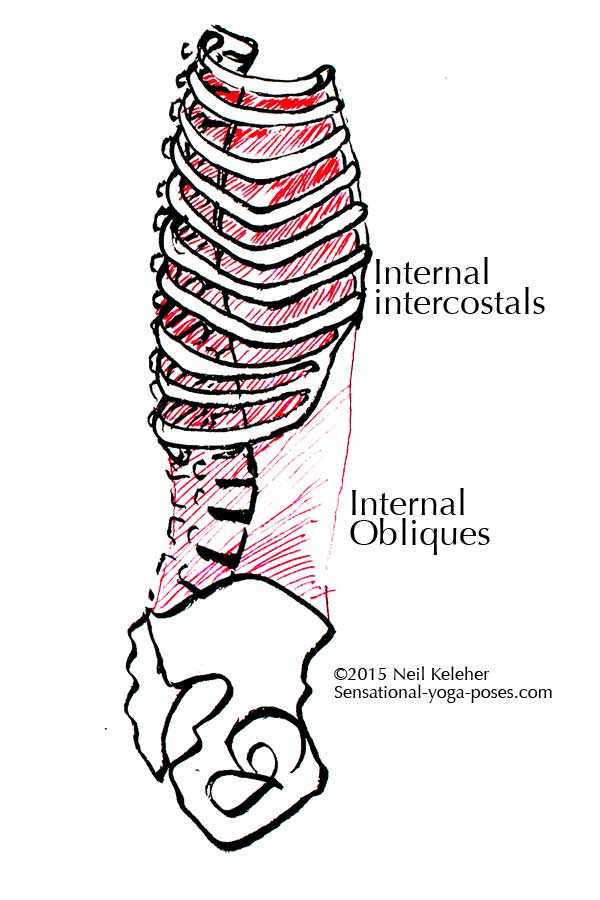 The fibers of the internal obliques angle forwards and upwards from the thoracolumbar fascia, the front two thirds of the hip crest and the outermost half of the inguinal ligament to the bottom of the lowest three ribs and the linea alba, the center line of the abdomen.
Looking downwards at your own abs, these muscles form a roughly pyramidal shape with the apex of the pyramid pointing upwards.
Contracting these muscles on your right side will pull the right side of your ribcage backwards and downwards, or resist it being pulled upwards and leftwards, assuming that the pelvis is fixed.
You can thus use your inner obliques to help turn your ribcage relative to your pelvis or to resist it being turned.
When activated on both sides of the body at the same time, the fibers of the internal obliques can create a downwards and rearwards pull on the bottom ribs helping to pull the front of the ribcage down or resisting it moving upwards. Thus your internal obliques can help to forward bend your ribcage and thoracic spine or to stabilize your ribcage and thoracic spine against back bending.
In a pose like dead dog where you lay on your back with your arms and legs reaching straight up, you can use your internal obliques to lift your pelvis and upper back off of the floor by pulling the sides of your ribcage down into the floor.