Low Pigeon Pose
Pushing back to activate your hip and your shoulders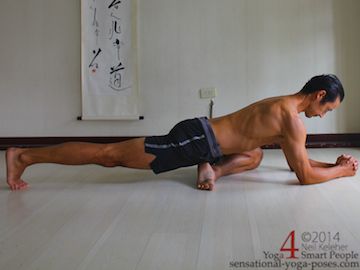 Normally in down dog I teach yoga students to push their ribcage and pelvis back using their arms. I usually have them do this while inhaling and then have them relax their shoulders (while maintaining the shape of the pose) while exhaling.
In the laying down version of pigeon pose, which I'll call low pigeon pose, you can do the same thing. Use your arms to help push your ribcage and pelvis rearwards.
I like to move into this pose slowly.
If you find this pose creates sharp pain in your front knee, then leave it out. Optionally, do this pose with he front leg hip on the floor.