Bladder Meridian Stretches
Meridian stretches for the back of the spine, hips, knees and ankles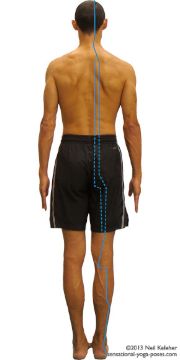 The following meridian stretches are for bladder meridians which runs down the back of the body.
It starts at the forehead, runs overs the top and down the back of the head and back of the neck. It runs alongside the spine in two lines on each side of the body (4 lines in total.) These two lines merge above the knee to continue down the back of the calf and along the outside edge of the feet.
To stretch the bladder meridian at the back of the neck you can bend your neck forwards.
You can stretch it down the length of your spine by bending your spine forwards. You can stretch the it at the back of the hip by doing a forward bend and you can extend that stretch to affect the back of the thighs and knees by bending forward with your knees straight.
You can also stretch it by stretching the calf and the back of the ankle.
Since this meridian originates above the eyebrows it may be affected by lifting your eyebrows.
Mr Spock anyone?