The Lumbar Multifidus
Anatomy for Yoga Teachers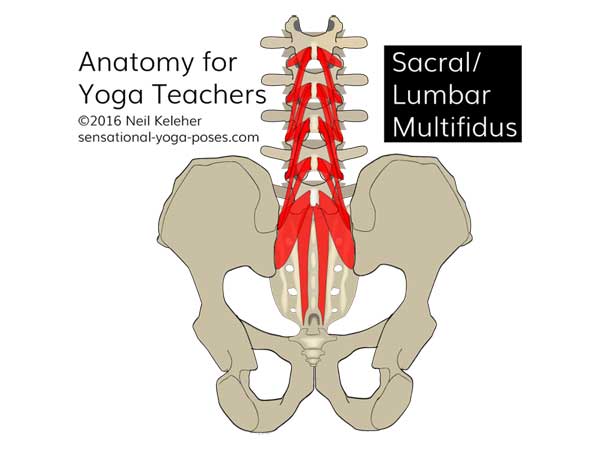 The sacral and lumbar multifidus.
The multifidus are small muscles that work on the back of the spine. Viewed from behind they create an upward pointing chevron pattern at the back of the spine originating at the transverse processes or mamillary processes of lower vertebrae and inserting at the spinous processes of upper vertebrae.
(Note that I may be incorrect in the use of the word origin and insertion. I'm assuming a bottom to top reference with the lower point of attachment for spinal muscles labelled as the origin and the upper point of attachment the insertion.)
The multifidus span two to four vertebral levels joining adjacent vertebrae or vertebrae separated by one or two other vertebrae. In the sacral and lumbar region these muscles also originate in part from the front facing surface of the spinal erector aponeurosis.