Pincha Mayurasana
Balancing Between the Elbows and the Hands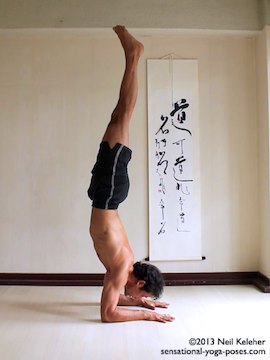 In Pincha Mayurasana the normal position for the arms is to have the forearms parallel. This can be challenging because the natural tendency is for either the elbows to move out or the hands to move in.
An alternative when first learning this yoga pose is to form a triangle with the forearms so that the elbows are shoulder width, and the tips of the index fingers and thumbs are together.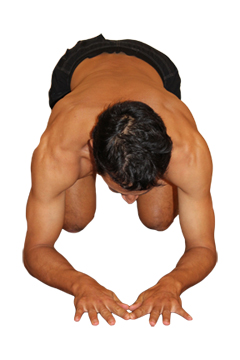 However, working at keeping the forearms parallel does create an interesting challenge. It forces you to improve your shoulder awareness and arm control.
So that you can develop the necessarily shoulder control you can practice this arm position first in a pose called dolphin pose, and then while mimicking pincha mayurasana with your feet against the wall like when doing an L-shaped handstand.