Inverted Yoga Poses
Working towards balancing while upside down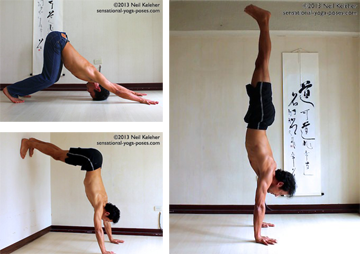 Inverted yoga poses like headstand (sirsasana), handstand, shoulderstand (salamba sarvangasana), forearm stand (pincha mayurasana) and even plow pose (halasana) can be scary, especially if you have never been upside down before.
To get over the fear, work towards these inverted yoga poses gradually.
As an example, to work towards handstand, you could start with downward dog, then do L-shaped handstand against a wall. And then, with a few more intermediate steps, you could then work towards balancing in handstand.