Arm Stability Via the Elbows and Hands
For Handstand, Chaturanga and Other "Arm Supported" Yoga Poses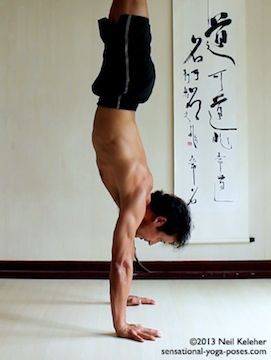 For general shoulder and arm stability, especially when the arms aren't bearing any weight I like to work from the ribcage outwards.
First stabilize the ribcage,
then stabilize the scapulae relative to the ribcage,
and then let the arms take care of themselves.
An alternative for working on arm stability when the hands are on the floor and bearing some or all of our body weight (such as in downward facing dog, handstand, plank, chaturanga dandasana etc.) is to start from the hands upwards.
That can mean stiffening the fingers, or as I prefer, pressing them into the floor to stabilize hand and wrist, and squeezing the elbow to stabilize the elbow joint and prevent or at least restrict upper arm rotation.
Where in the first case the intent was to create stability by fixing the shoulder blade to the ribcage, in this instance it's created by fixing the arm bones relative to the floor or ground.