Chair Yoga Pose
Protecting the Knees and Balancing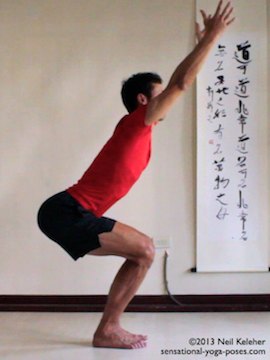 Chair Yoga Pose (Utkatasana or "Fierce Pose") is like doing a half squat.
As you move your hips back bend your knees and tilt your pelvis and ribcage forwards. So that you can keep your heels on the floor as you bend your knees, move your pelvis and knees back relative to your feet.
Work at keeping the pressure even on the fronts of your feet and your heels so that you stay balanced in this yoga pose.