Yoga Cobra Yoga Pose
Deepening spinal awareness by bending the spine backwards one vertebral joint at a time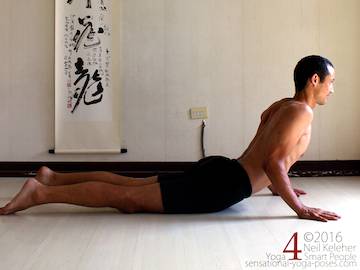 My usual method for teaching cobra yoga pose is to start with locust pose.
The idea of using locust pose as a start is to learn how to feel the spinal erectors activating. These are the muscles that run up and down along either side of the spine. They can be used to bend the spine backwards.
The challenge with cobra pose is getting students to use their spinal erectors even though they are using their arms to help lift their ribcage off of the floor.
One method for getting them to feel their spinal erectors is to bend the spine backwards one vertebrae at a time.