A Detailed Guide to Bridge Pose
With options for hands, elbows, shoulder blades, spine and hips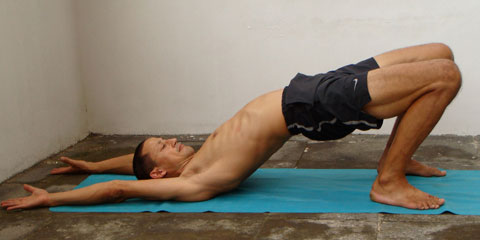 In this picture of Little Bridge my thoracic spine is straight. However, I have a little bit of a bend in my lumbar spine causing my pelvis to tilt forwards. The feeling is like my pelvis is hanging down from my lumbar spine.
Mary Johlfs sent me this question about Setu Bandhasana or Bridge Pose:
I would like some clarification on setu bandhasana. I have had several teachers cue that the glutes should be totally soft and not engaged at all. I understand that you wouldn't want to purposely clench and hold the glutes, but is it even possible to "turn off" the glutes in bridge? Since the hips are extended in bridge and glutes are hip extensors, don't they have to be engaged? I have had teachers say all the work should be in the quads in bridge. I feel my quads isometrically contracted, but aren't the glutes the main movers here?
Rather than saying bridge pose (or any pose for that matter) should be done in a particular way, I like to explore options for doing poses. So here I'll talk about how you can do bridge without using your glutes (and how you can do it with them activated). I'll also talk about options for using your arms and shoulders.
Note, the better you can feel and control your body, the easier it is to figure out for yourself whether or not you should use particular muscles in particular poses. And just as importantly, the easier it is to explore different options, in the process getting a better understanding of your body.
Note that another action that I use when teaching glute activation and hip control is opening the hip crease. You can read more about the hip crease, and how to open and close it here: the hip crease.
I've also designed a whole course to help students learn to feel and control their hip joints via the hip crease. You can find out more about that here:
Hip crease, butt and inner thighs, improve hip control and awareness via your hip crease.
Bridge pose, Quick links
Published: 2011 10 02
Updated: 2023 03 22