Eagle Pose Arms and Legs
Learning to Wrap Your Arms independently Of Your legs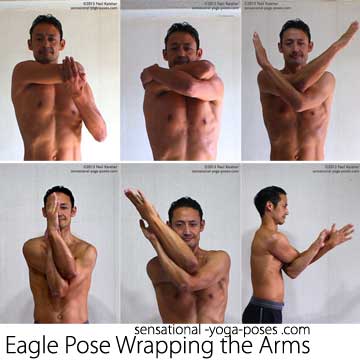 One approach for eagle pose arms is to cross the arms in front of you with elbows bent and then grab the back of the opposite shoulder with both hands.
You can then use your hands to pull your elbows past each other. You can hold this for a few breaths.
Then try to rotate your upper arms outwards so that your forearms cross. As you do this you might find it helpful to spread your shoulder blades (middle and right below).
Once your forearms cross you can then hook the fingers of your lower arm into the palm of your upper arm.