Half Happy Baby Hip Stretch
A Preparation for Foot Behind the Head Yoga Pose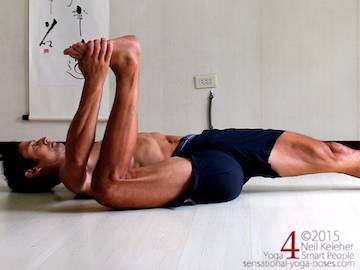 Happy baby hip stretch is a reclining (laying on your back) hip stretch that I like to use as a prep for foot behind the head yoga pose.
I often do it after pigeon yoga hip stretch.
Where in normal yoga Happy Baby pose your grab both feet, in this variation you only grab one foot.
Start with both knees bent. Grab a foot with both hands, bend the knee and use your arms to pull the knee to the floor to the side of your ribcage.
Keep your shin vertical.
You can focus on relaxing your hip.