Kneeling Yoga Poses
How to get comfortable with kneeling
On page cat links
Balancing on one shin, Bent back hero, Bharadvajasana, Camel pose, Child's pose, Dog pose, Forward bend seated, Half hero, Hero, Hip flexor stretch, Knee balance, Kneeling, Marichyasana e, Quad stretch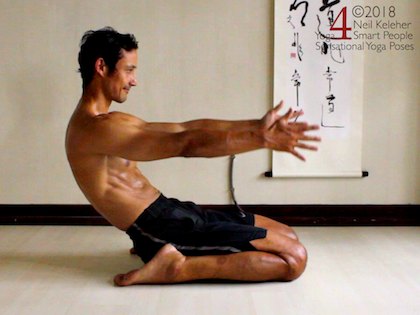 How do you get comfortable kneeling?
A simple way to get comfortable with kneeling is to activate your toes and ankles. Try pressing your toes or tops of your feet into the floor while kneeling.
How do you keep your knees safe in hero pose?
Hero pose (also known as Virasana) is a type of kneeling position where your buttocks sink to the floor between your heels.
In this kneeling yoga pose, you can help keep your knees safe by activating your toes or ankles. You can also help keep them safe by activating your quadriceps and/or hamstrings.
You could also experiment with activating your calf muscles.
A variation of hero pose is to kneel with one knee with the other knee straight. From here you can remain upright, bend forwards or gradually recline backwards. Working towards the reclining version is described here: reclining half hero