Marichyasana Yoga Poses
Learning to Bind in Marichyasana Yoga Poses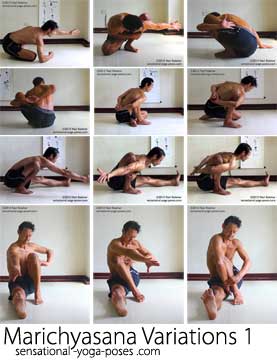 Marichyasana type yoga poses can be thought of as binding seated yoga poses.
(For combined Marichyasana/Lotus variations check out Marichyasana B and Marichyasana D).
When trying to bind in these binding yoga poses, you can think of them as having three levels of difficulty. The easiest poses to bind are those where you simply bend forwards inside the marichyasana leg. More difficult is binding with the opposite arms while in a twist. More difficult yet is binding while twisting with the other leg in lotus.
Working from easy to moderately hard, here are some suggestions for learning to bind easily in marichyasana style yoga poses.