L Shaped Handstand Against A Wall
Getting your center of gravity over your hands, instead of your hips and shoulders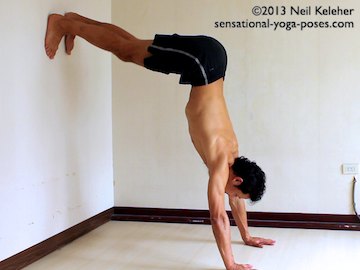 A lot of teachers use L-shaped handstand to teach "correct" shoulder, hand and hip alignment. They work at getting you to stack your hips, shoulders and wrists vertically even though your legs are horizontal.
I'd suggest a more "sensible" way to use this pose is to practice using your hands to feel where your center of gravity is. Do make your elbows and wrists active. Do may your shoulder girdle active. Do engage your core, and even your hips, knees and feet. But rather than stacking your hips, shoulders and wrists, instead work to position your center of gravity over your hands.
I talk about how in the text below.