Lifting Into Handstand
Tips and exercises for working towards lifting your legs together into handstand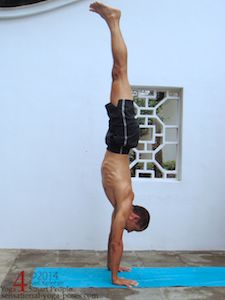 Lifting into handstand (adho muka vrksasana-downward facing tree) looks cool. Done from a standing forward bend, you shift your weight onto your hands and then lift your legs up, seemingly with little or no effort.
A beginner version would be to do this with the knees bent but the goal can be to do it with the knees straight.
For a lot of people the dream may be to lift up into Handstand with the legs straight.
I would suggest that the prelude to this, especially if you have tight hamstrings, is getting up with your knees bent.
You can work on your forward bend awareness and balancing on your hands at the same time.