Handstands
Stabilizing elbows and knees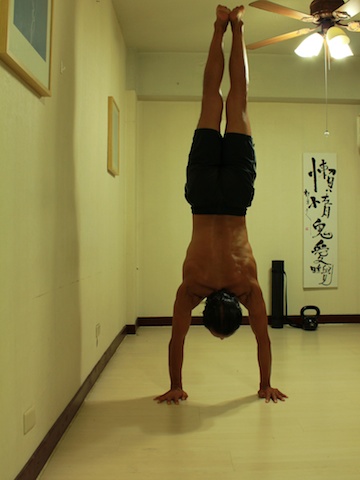 I used to think that the shoulders were the most important element in handstand. At first my focus was on learning to stabilize them. Then my focus has been on positioning them with respect to the hands (more on that in handstand.)
Obvously the hands are important also, since this is "handstand" we are talking about.
After doing some anatomical studies of the elbow joint I've since found that stabilizing the elbow elbow may actually help the shoulders and make handstanding more easy.
My initial focus was on using muscles that straighten and bend the elbow against each other.
For completeness I then decided to explore the forearm rotators, the supinators and pronators. You can use these muscles against each other to stabilize the forearm rotationally.
In handstand, because the hands are on the floor, when you deliberately prevent the forerams from turning (using the elbow muscles) then the rotators at the shoulders don't have to work to keep the arm rotationally stable. The elbow muscles are already doing that job. The muscles of the shoulder can focus then on keeping the body lifted.
It's a little scary initially trying to jump with elbows "strong" but the reward seems to be a more stable base for handstand. But rather than taking my word you'll have to try it for yourself. I've already had one person commenting positively about this technique. She even managed to balance without the wall for the first time a few days after I wrote about it.