Binding Yoga Poses
Using the strength of one part of the body against another
On page cat links
Ardha matsyendrasana, Armpit pose, Bharadvajasana, Binding, Compass pose, Half bound lotus seated forward bend, Half bound lotus standing forward bend, Hamstring stretch, Marichyasana, Marichyasana a, Marichyasana b, Marichyasana c, Marichyasana d, Side angle, Side angle bound, Twisting, Twisting side angle bound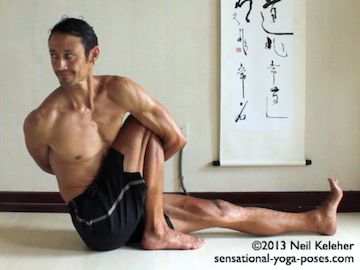 In general, binding yoga poses are those where one part of the body grabs and pulls against another part. So for example, if you are grabbing the big toe or side of the foot, that's a bind.
Binding poses allow you to use the strength of one part against another. So if grabbing a foot, you can use your arm muscles against your leg muscles.
It's worth noting that because of the way that you connect limbs when binding, the muscular strengthening action when binding is different than when doing a similar shaped pose that isn't bound. For this reason it can be worthwhile to practice both binding poses and poses that are similar in shape but non-binding.