Seated Side Bend
Stretching the side of the body with options for stretching the quads and hamstrings
\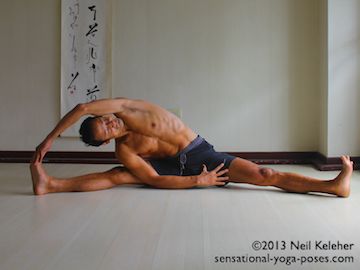 Seated side bends, can be used to stretch the side of the torso (the waist, the intercostal spaces), the shoulder (if the arm reaches over the head). They can also be used to stretch the hamstrings if the leg that is being bent towards is straight.
If using seated side bend as a hamstring stretch, you can sit with both legs straight. Or you can bend the other leg (the leg you aren't bending towards) so that the foot is either inside the thigh (as in janusirsasana) or towards the outside (as in hero pose).
Another way that you can use seated side bending poses is to stretch the quadriceps as well as the side of the body. To do this, you can sit upright with one leg in hero pose. Bend your upper body towards the hero leg side.