Yoga Pose Side Stretches
For Stretching and Strengthening the Sides of the Spine and Legs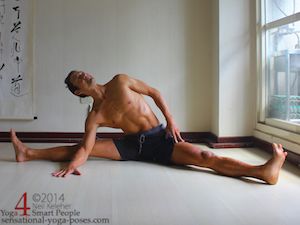 Side stretches stretch the side of the body. Depending on how you do them, they can also strengthen the side of your body.
Side stretches can work on the hip and all sections of the spine.
When side stretching the spine it seems (or may seem) pretty obvious that after stretching one side you stretch the other. You can stretch the sides of the lumbar spine, thoracic spine (the part that the ribs attach to, and thus the ribcage) and the cervical spine (that connects the head to the ribcage) individually or together.
If you consider the side of the hip to only be the outer part, then for balance, you also need to stretch the inside of the hip.