Seated Twist
Using your spinal erectors and paraspinalis to deepen your spinal twist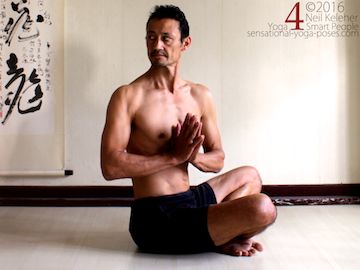 Seated twist is hardly the sexiest yoga pose in the world. Sit with your legs crossed and turn your ribcage to the right. (And then to the left.)
I use it a lot just because it is so simple and because it is easy to spice it up.
In this variation you can focus on activating your side gluteals and spinal erectors. Why? One reason is that it may help you to improve tone and control of your multifidus and rotatores as well as the spinal erectors that work on the ribs. The multifidus can be used in the lumbar region to bend the lumbar spine backwards. Meanwhile the rotatores can be used to turn the thoracic vertebrae relative to each other.
In general this exercise will give you a good feel for activating your spinal erectors and you may just find that they help you to increase the opening in your ribcage as you twist it.
Do you want to activate these muscles everytime you twist? Not necessarily. However I would suggest developing enough control that you can activate them at will. Then you can determine for yourself, by activating and relaxing, whether you want to use them in the particular pose that you are doing.
For now the focus is on using them in a seated twist. And prior to activating them while twisting, practice activating them while bending your spine backwards.