Twisting Poses
Stretching the spine with anchored twisting
On page cat links
Ardha matsyendrasana, Bharadvajasana, Binding, Lotus, Marichyasana a, Marichyasana b, Marichyasana c, Marichyasana e, Pigeon, Shoulder stretch, Sitting cross legged, Twisting, Twisting side angle, Twisting side angle bound, Twisting triangle, Twisting while standing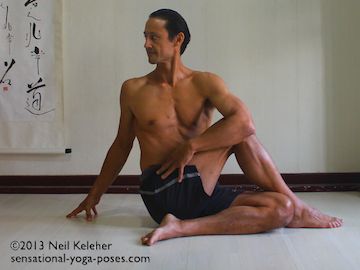 One thing to consider when doing twisting poses (spinal twists) is to anchor the base of your spine. That can mean stabilizing your legs if standing, or stabilizing your hips while sitting. That being said, you could also work at stabilizing your legs (as well as your hips) while doing seated twists.
If you are twisting while supine or prone, generally your turn your pelvis relative to your ribcage. In this case, you could work at stabilizing your upper body. However, to make your lumbar spine more comfortable you might choose to stabilize your hips and lower back, especially if using the weight of your legs to drive the twist.
While you can use your arms to help drive a twist, particularly while seated, I'd suggest learning to activate your spinal muscles and using them to generate a spinal twist. As mentioned, muscle activation tends to give you sensation. If you activate your spinal muscles while twisting, they'll not only help you twist your spine, they'll also help you to feel it.