Yoga Pose Brush Strokes
Tips for Breaking Yoga Poses down into Meaningful Elements For Improved Body Awareness, Coordination and Control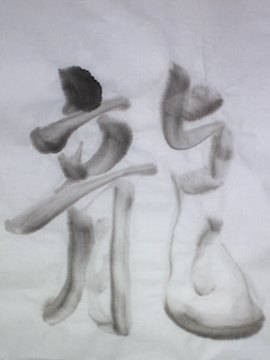 Chinese characters are much like yoga poses in that they are composed of many parts. And the idea is to connect those parts smoothly to each other. And when painting a series of characters, the idea can be the same, making one character flow smoothly into the next.
Rather than thinking about each brush stroke, the feeling is one of knowing each brush stroke and it can seem like the character is painting itself.
While learning, achieving this feeling of flowing can be difficult particularly when trying to pain a whole characters.
And so when I learn a new Chinese character I don't focus on trying to do the whole thing all at once. I break it down into elements and practice those elements in small groups.