Standing Yoga Poses
A sequence of lateral and longitudinal standing poses suitable for beginners
On page cat links
Chair pose, Eagle pose, Forward bend standing, Half moon, Mountain pose, Pyramid pose, Side angle, Side angle side bend, Side bending, Standing side bend, Tree pose, Triangle pose, Twisting triangle, Warrior 1, Warrior 2, Warrior 3, Wide leg standing forward bend, Wide leg standing forward bend a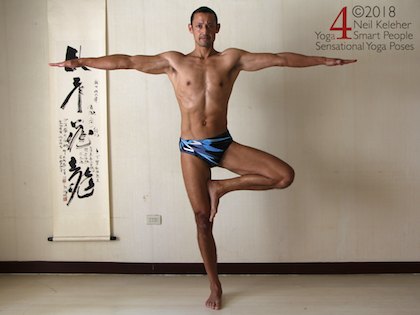 The standing poses on this page are generally suitable for beginners. They are also listed as a potential sequence.
Why are standing yoga poses important?
Standing yoga poses can be used to warm up the body. In particular, bent knee standing poses (either one or both knees bent) can be used to warm up the body, particularly if held for long periods of time. These bent knee standing poses can also be used to strengthen the thighs.
Standing poses that are done on one leg can be used to practice balance.
Standing poses that also involve binding can be used to strengthen arms or legs. Where a foot is grabbed by a hand, the muscles of the leg and arm can be used against each other for a strengthening affect. If using leg against leg (as in tree pose or eagle pose) the leg muscles can be strengthened.