Adductor Stretches
Stretches for Improving Inner Thigh Flexibility and Control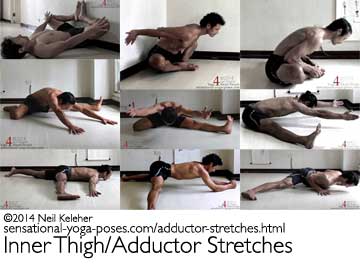 Adductor stretches (or stretches for the inner thighs) include both bent knee and straight knee positions. If you have very tight inner thighs you may find it helpful to use a wall to stretch them while laying supine.
You may also find a wall helpful as a prop while sitting upright.
For a basic understanding of the adductors and inner thighs read Adductors and inner thigh muscles.