Seated Wide Leg Forward Bend
Learning to Activate and Relax the Hamstrings and Stretch Them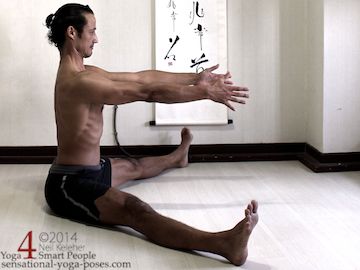 In the seated version of wide leg forward bend (upavistha Konasana) you can work at stretching your hamstrings by gradually adding weight to the pose and then taking that weight away.
You add weight by lifting your arms and reaching them forwards.
So that you can support this weight you can press your legs into the floor and lengthen your spine.
Lengthening your spine in a seated forward bend tends to activate your spinal erector muscles.