Reverse Plank or Purvottanasana
Strengthening the Back of the Spine and Legs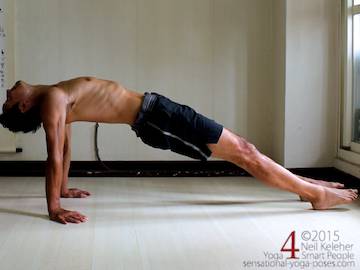 Purvottanasana, or reverse plank, stretches the front of the body and strengthens the back. It also stretches (and strengthens) the fronts of the arms.
In the Ashtanga yoga primary series, Purvottanasana (intense west stretch) comes right after paschimottanasana (intense east stretch).
Where paschimottanasana can be used to stretch the back of the spine, reverse plank can be used to strengthen the back of the legs.
If you bend your spine backwards in this position you may find that it strengthens the spinal erectors, the muscles that run up the back of either side of the spine.