Side Plank
Progression for Shoulder Strength, Ab Strength, Leg Strength and Hamstring Flexibility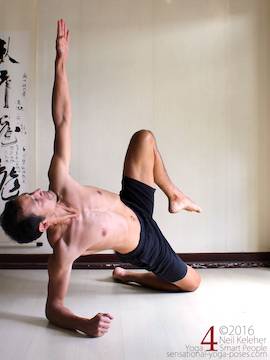 When working with beginners, I usually like to go through a progressively harder set of side plank preparation exercises.
One reason for this is to train shoulder awareness so that they can effectively stabilize their scapula. Another is so that they learn how to use their legs to lift their hips, first with knee bent, then with knee straight using the top leg (for the inner thighs) and then the bottom leg (for the outer thighs).
In combination with this another aspect is learning to activate muscles at the front of the lifted leg (quadriceps and hip flexors) followed by the muscles at the back of the leg (hamstrings and possibly gluteus maximus.)
One way to do this is to lift the knee or leg without holding on to it.
For each set, I like to repeat both sides before moving on to the next set.