Chaturanga Dandasana
Alignment and Using Force Effectively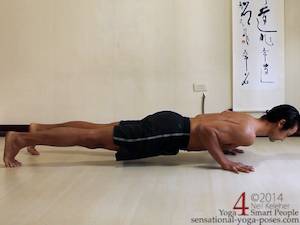 The usual alignment for Chaturanga Dandasana (Four Limbed Staff Pose) is with the forearms vertical. You stack your wrist below your elbows.
An article by David Keil in Elephant Journal proposes a different alignment.
Having the hands ahead of the elbows so that the forearms angle forwards from the elbows.
This is not only easier on the wrists, it also makes the pose easier to do. But first, here's some suggestions for working into this version of chaturanga dandasana from the ground up.