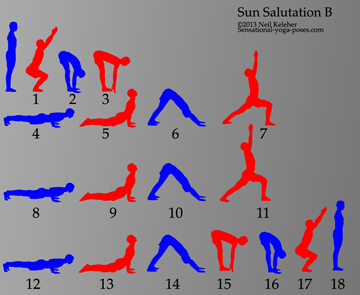 Learning Ashtanga Style Sun Salutation B
Simple tips for learning and remembering the eighteen movements of this breath-linked series of yoga poses
In the Ashtanga Yoga version of Sun Salutation B (or Surya Namaskara) there are 18 movements.
As with sun salutation A, the even numbered positions (colored blue) of sun salutation B are done with an inhale. The odd numbered positions are moved into while exhaling.
Initially you may find it difficult to do a whole movement while inhaling or exhaling. While learning, focus on breaking the movement down into steps. Think about each movement before you do it and work towards making each movement smooth.