Supine Yoga Poses
A mixed level sequence of reclining yoga poses
On page cat links
Bound angle, Bound angle supine, Bridge pose, Dead dog, Foot behind the head, Hamstring stretch, Happy baby, Hip extensor stretch, Hip flexion, Plough pose, Reverse push up, Side splits, Wheel pose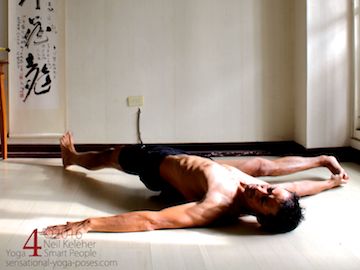 Supine yoga poses (poses where the belly faces upwards) can be used to strengthen the back of the body and the front.
Some supine poses can be done using a wall, very handy if you are tired or are flexibility impaired.
They can also be done without a wall.
The following supine yoga poses have been arranged so that you can do them as a sequence of yoga poses. Skip the poses that you aren't ready for.