Active Stretching
More Muscle Control for Better Flexibility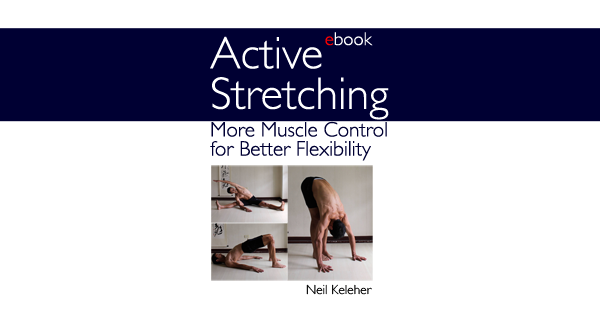 Click this image to order directly on the
gumroad
page.
Active Stretching simply means activating and using your muscles while you stretch.
The muscles you use could be the same muscles that you are stretching (resisted stretching) or
They could the muscles that oppose the muscles that you are stretching (assisted stretching).
Rather than just activating muscles or relaxing them the bigger picture purpose of these exercises is to help you get better at both feeling and controlling your body.
That is something that you can use to improve performance in any endeavor.
The exercises in this book are arranged as a series of 4 mini routines, which, when put together form one long routine which could take about an hour. More important than the routine itself is that you'll learn some basic muscle control that you can use in any stretching or strengthening postures, not just the ones in this book.
Another important idea is the idea of adjustability.
You'll learn how to adjust your poses, your stretches, to change the feel and effectiveness of each stretch. Another way you can look at this is that rather than stretching in one position you'll learn some options for spreading the stretch across a range of possible positions.
This book also includes tips for improving ground sensitivity, basically helping you to get better at feeling (and controlling) the way you interact with the ground.
One of the benefits of this is that you can learn to use your strength with less effort.
Overall, Active Stretching is a guide to not just improving flexibility and strength, but to getting a better feel for your body as well as improving your ability to control it, or if you like, improving your ability to make better decisions in how you use it.
The book is an ebook which you can download in three formats for one price (pdf, mobi and epub). And if you aren't happy with it, you ask for and get a refund within 30 days of purchase. Which gives you 30 days to try the exercises out to see if you can actually get a better feel for your body.
Click below to Purchase
Buy: Active Stretching ($28.00)
Or order directly on the gumroad page.
Once you've ordered, you'll be able to download this book in pdf, epub or mobi format (you get access to all three formats for one price!)
If you have any problems use the contact form to get in touch with me.