Arm Balances
Getting your feet off of the floor without jumping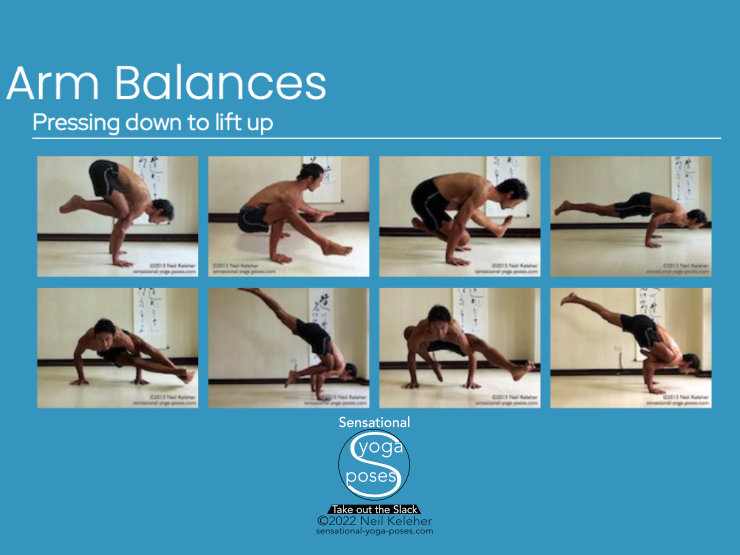 I can't lift my legs when doing arm balances. What should I do?
One of the most common difficulties with arm balances is lifting the legs or legs. In most, if not all, cases, the solution is simple. Shift your weight forwards! So that you don't crash your face into the floor, shift forwards slowly. Notice when your leg is only "lightly touching the floor". That's a signal that your weight is over your hands and that generally means that you should then be able to lift your leg or legs. Or they might just lift automatically.
Arm Balances, toc
In most yoga arm balances one or both legs rest on the back of the arm or arms.
An exception to this general rule is mayurasana, where you place your belly on top of your elbows.
One action you can work on, either after you are balanced, or to help you balance, is to try pressing your leg (or legs) down against your arm. If you press your legs down you can then use your leg muscles to help provide some lift for your pelvis. Your arms then don't have to do quite so much work.
Press Down to Lift Up
Depending on the arm balance pose, you may also find that by varying the downward pressure of your leg(s) on your arm(s) you may be able to help vary the height of your pelvis.
Shift Your Weight for Balance
In terms of getting your feet off of the floor, one of the simplest things that you can do is to shift your weight forwards.
This means getting as much of your body in front of your hands as there is behind it so that you are actually balanced.
An arm balance where both both legs rest on top of either arm is tittibasana.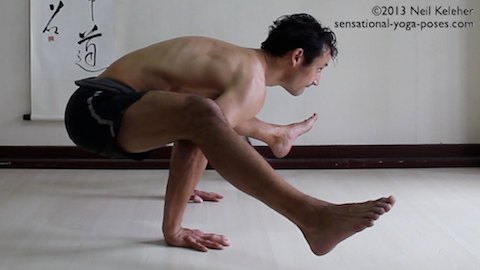 Usually in this pose I start of with my butt on my floor. I get my legs on top of my arms and then I lean forwards to lift my butt.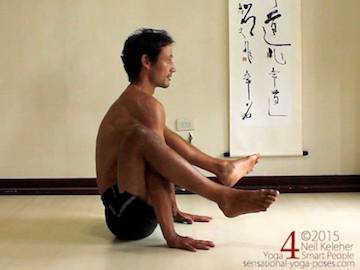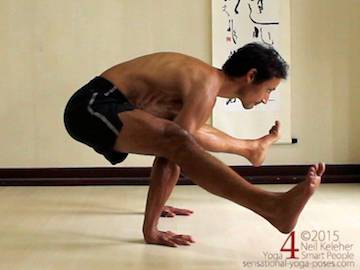 A lot of my students have trouble with this pose because they don't understand the significance of bringing their hands back close to their butt in order to lift up.
And so I explain, "The closer your hands are to your butt the easier it is to learn forwards far enough that you can lift your butt off of the floor.
One way to make it easier to get your hands close to your butt is to put your butt on a yoga block. Make sure it's not too high.
With your butt on a block it's then pretty easy to bring your hands further back. You can then lean forwards to lift your butt.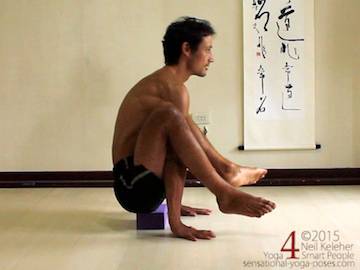 Note, whether using a block or not, after you put your legs on top of your arms, lift your feet.
You may find it easier then to move your hands back.
Another possible entry into tittibasana arm balance is to squat down with your butt lifted.
Then reach your arms down and back behind your legs.
Get your hands on the floor, with your shoulders under your thighs, you may find that you can sit back just enough that your feet come off of the floor.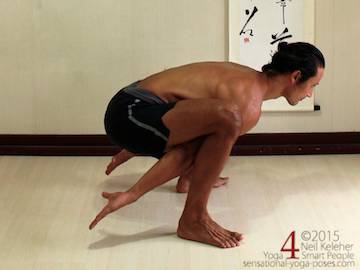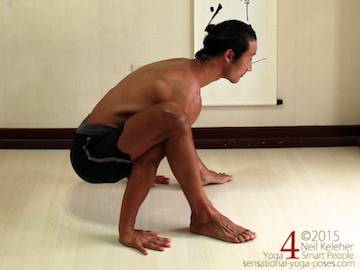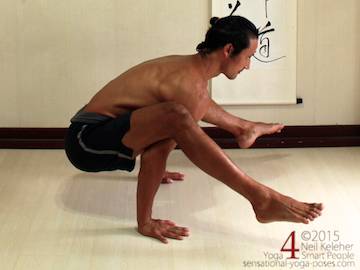 Once you are in tittibasana arm balance, try pressing your thighs down against the top of your arms. Then straighten your knees. Try lifting and lowering your butt (while keeping knees straight) and notice the change in inclination of your arms as you shift your center of gravity.
If you have trouble with your legs sliding off of the back of your arms in this arm balancing yoga pose, try squeezing your inner thighs to keep them in place.
Eka pada koundinyasana arm balance is similiar to tittibasana except only one leg is on top of an arm. The other leg reaches back so that you are doing the equivalent of the splits. (Below right.)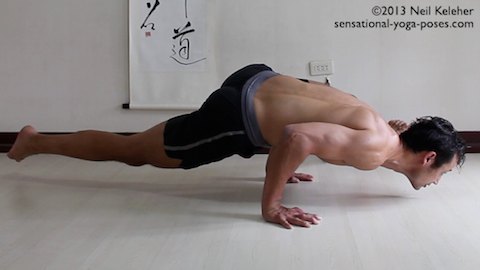 An easy option is to pull the back leg forwards with the knee bent beneath you. This can be used as a stepping stone towards the full pose. (Below left).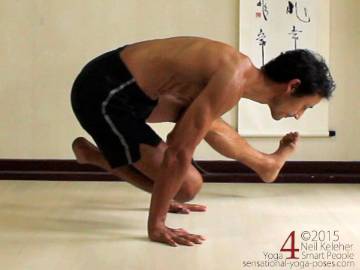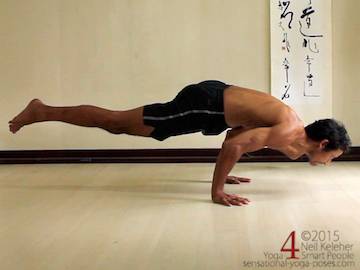 To get into the eka pada koundinyasana arm balance (flying splits), first sit cross legged. Keep one leg where it is and lift the other leg, try to get it behind your shoulder or at the least behind your upper arm. Use your inner thigh muscles to help keep it in place.
So that your inner thigh has something to work against you may have to press your arm outwards to resist your leg.
Lean forwards and press your hands down into the ground.
Lift your hips. Then lift your bottom knee. (Relax and repeat this a few times if you need to.) Then lift your bottom foot.
You may find it easier to lift your hips if you press your lifted leg down onto the back of your arm.
Once you are comfortable with lifting your bottom leg you can work at reaching it back. However instead of focusing on reaching it back, instead focus on moving your chest and shoulders forwards. You may find that you feel like you are going to do a face plant. To prevent a face plant reach your bottom leg back.
The further you reach your body forwards the further you'll have to reach your back leg back.
To make this pose easier on your shoulders, try using your serratus anterior to spread your shoulder blades and stabilize them. This can feel like you are using your shoulders to push the back of your ribcage upwards, towards the ceiling.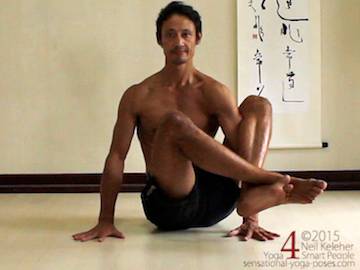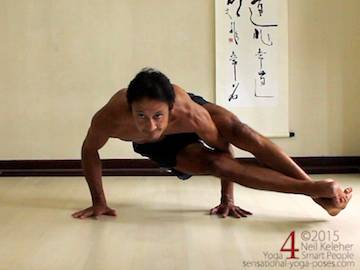 In the Astavakrasana yoga arm balance you can again start with one leg over your shoulder. For this posture cross your ankles. (I would suggest having the bottom leg in front.)
Here's a series of videos each focusing on a different exercise to help make learning Astavakrasana easier. Note the exercises are designed not just to help you learn Astavakrasana, but to help you gain a better understanding of your body (and how to balance).
Remember to say "astavakrasana baby."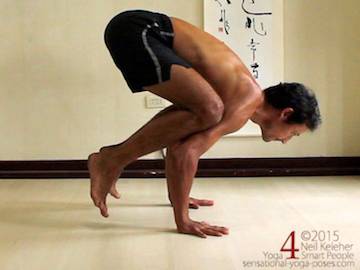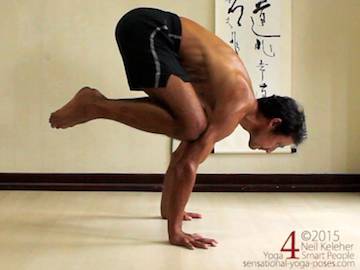 In crow pose (bakasana) your shins or knees rest on top of your arms. I've done a video for beginners on youtube.
Lots of people have trouble lifting their feet in crow pose. View the video that helped them.
If you have wrist pain in crow pose, read wrist pain crow pose for how you might alleviate it.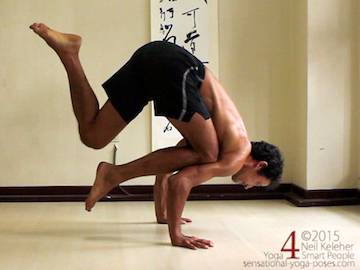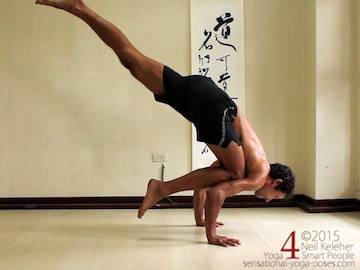 In eka pada bakasana arm balance (one legged crow pose) you press your knee against your upper arm to lift your butt.
As in eka pada Koundinyasana you can start with the free leg hanging down between your arms. Then, instead of reaching the leg back, focus on moving your shoulders forwards, ahead of your hands. Do this slowly. As you do so you may find that your free leg naturally reaches back in order to keep your balanced.
Note that the higher your lift your leg in this pose the less forwards your have to reach. Likewise, with your leg horizontal, then you'll have to reach your chest forwards far enough to stay balanced.
You may actually find it easier to get into this pose after doing Marichyasana A and then transitioning into Eka Pada Bakasana from there.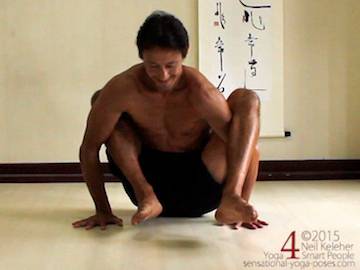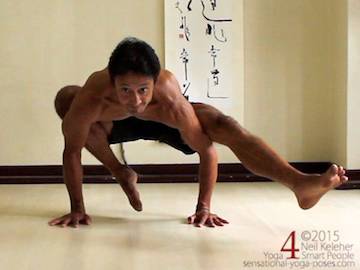 If you want to do eka pada bakasana 2, simply move the back leg forwards from eka pada bakasana 1. Once you get it forwards, press it down against the top of your arm or shoulder. Now you can press both legs down against the arms.
Or to start from the very beginning, have one arm in front one shin and the other leg on top of the other arm. Press your legs against your arms. Lean your body forwards so that your butt lifts off of the floor.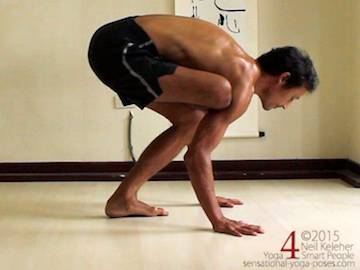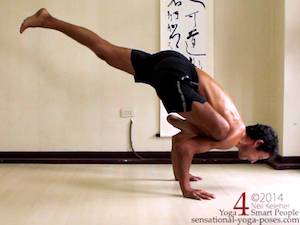 In galavasana arm balance (or flying pigeon since the leg position is similar to that in pigeon yoga pose), squat down with one ankle on top of your other knee.
With your right leg on top, place your right knee in behind your right armpit. Place your right ankle in the back of your left armpit. With your hands on the floor use your thigh muscles to press your shin into the backs of your arms. Press so that you use that leg to lift your pelvis. Shift your weight forwards onto your hands so that you can lift your bottom leg.
Here again, reach your torso forwards so that your free leg naturally reaches back.
As with eka pada bakasana arm balance, the higher you lift your leg the less far you have to reach forwards in this arm balance to stay balanced.
In all of these arm balances at least one leg is on top of an arm.
Press that leg into your arm so that your leg is doing some of the work of supporting your body.
In most cases reach your body forwards so that you have enough of your body in front of your hands to balance the part that is reaching back behind your hands.
Arm Balance Counter Poses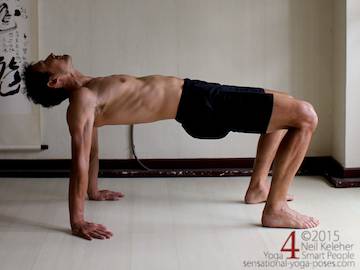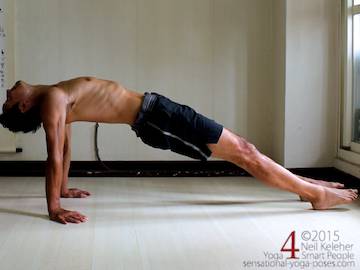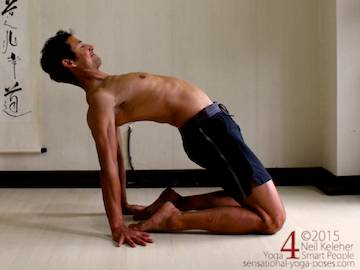 How do you counter pose arm balances?
Generally, in all arm balances the arms are in front of the body and supporting all of the body's weight, similar to chaturanga dandasana. However, the difference is that the leg (or legs) are on top of the arms.
Arm balances can actually be easier on the arms that than chaturanga dandasana.
But anyway, because the arms are in front of the body while doing arm balances, one idea of counter posing arm balances is to do a yoga pose where the arms are behind the body.
Even better is having the arms behind the body and supporting some or all of the weight of the body such as in table top yoga pose, reverse plank or even camel yoga pose. (Move the Shoulder Blades Together for all of these counter poses.)
Another feature of arm balances is that they tend to use a lot of abdominal strength (and hence can be good for exercising the abs). And so an additional feature of any arm balancing counterpose is to stretch the abs and perhaps also to exercise the opposing set of muscles, the spinal erectors.
And so back bending yoga poses with the arms behind you are a good way to counter pose arm balances.
By the same token, arm balances can be used as counter poses for back bends.
You May Also Be Interested In Reading
Want to see some videos on arm balancing? This page includes a selection of my arm balance videos on youtube: arm balance videos.
A Key Element in balancing is stability. How do you create stability (and sensitivity)? Read More in Improving Balance.
Balancing an object is simple. We all know that we move it one way or another until its balance point is over the foundation. How do we know where our own balance point is? Read more in Yoga Balance Poses.
Balance exercises can be fun. But they can also be tricky. Find out how to work towards tricky (and fun) balance poses in Yoga Poses to Improve Balance.
Published: 2011 10 23
Updated: 2021 01 24