Psoas Anatomy
Hip flexion, deeper stretching, preventing lumbar shear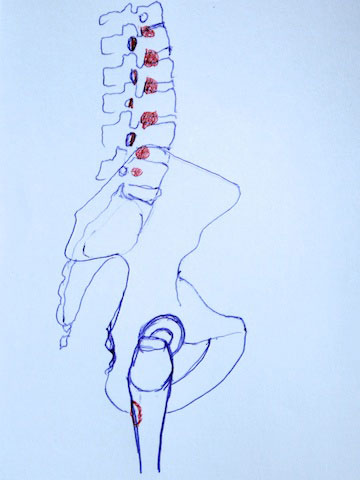 The psoas major has 6 fascicles on each side that attach to the sides of the bodies of the Lumbar Vertebrae (from top to bottom called L1, L2, L3, L4 and L5) as well as to the body of the lowermost thoracic vertebrae (T12). In some cases there is no attachment to L5. These same fascicles also attach to the discs between these vertebrae. Viewed from the side, the attachment points are behind the midline of the body of the vertebrae.
The Psoas muscle also has 5 more fascicles (on each side) that attach to the fronts of the transverse processes of the lumbar vertebrae.
The lines of pull of each of the lowermost fascicles can be used to cause the lower lumbar vertebrae (L4 and L5) to tilt forwards. The upper fascicles (acting on T12, L1, L2 and L3) can cause their respective lumbar vertebrae to tilt forwards if the lumbar spine is already curving forwards. If it is bent backwards then these fascicles can be used to cause those vertebrae to tilt further backwards.
So depending on the bend that that lumbar spine already has, the psoas accentuates that bend. And so rather than being a flexor or extensor, working against the spinal erectors, the psoas is acting to stabilize the lumbar spine however it is "shaped" or "bent".
(Read psoas muscle for another point of view on this.)