Psoas Stretch
Standing Stretch for Psoas Upper and Lower Fibers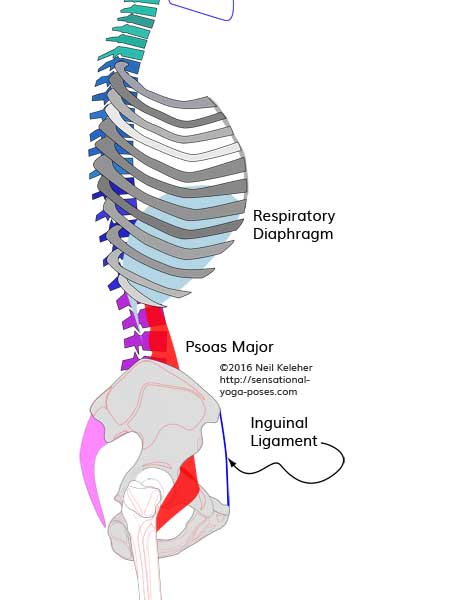 The psoas muscle attaches at one end to the lumbar vertebrae. After folding around the front of the pelvis the other end attaches to the inside of the femur, just below the neck, at the lesser trochanter. This point is towards the rear of the inner surface of the femur.
In terms of stretching the psoas muscle it can be useful to think of the psoas in two parts, the upper psoas muscle and the lower.
The upper fibers are those that attach to the upper lumbar vertebrae and to the renal fascia.
The lower fibers attach to the lower lumbar vertebrae.
You may find that to stretch the upper fibers, those that attach to the renal fascia, or if you like, to the backs of the kidneys, you can focus on lifting the 12th pair of ribs (to which the renal fascia have an attachment).
To stretch the lower portion, you may have to flatten the curve of the lumbar spine.
Both of these actions can be done while standing upright with knees straight.