Utthita Trikonasana
Using Triangle Pose to Strengthen the Side of the Body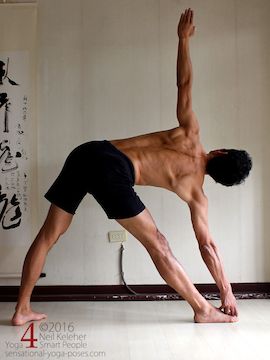 The two traditional ways to do utthita trikonasana (triangle yoga pose) are to either grab on to the big toe in this triangle shaped yoga pose or to rest the bottom hand on the floor. In either case the legs are about a legs length apart with one foot turned in slightly and the other foot (the "reference" foot) turned out 90 degrees.
In both versions of this yoga pose the torso is leaned over the front leg.
One advantage of the "big toe grabbing" version is that it enourages you do be a bit more active in the pose.
Rather than using your arm to help support your body, in the big toe version you can focus on using your leg and waist muscles to help support the weight of your upper body. They'll get stronger as a result.