Yoga Triangle Pose (Utthitta Trikonasana)
Developing Leg Strength, Stability and Control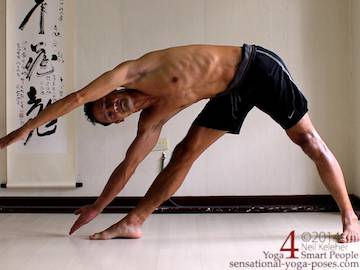 Triangle pose could be thought of as a side bend with the legs separated and the body leaning towards one leg, with the foot of that leg turned out at 90 degrees.
In the Ashtanga standing series, this pose is done with the bottom hand grabbing the big toe. You then pull upwards on the toe engaging the torso, the arm and the leg.
An option is to do it without grabbing the toe.
In this case, you could rest your hand on your leg, or the floor. Or you could lift both arms, and even reach them to the side. The advantage of doing it with the arms lifted is that it can strengthen the hips (as long as they are active) as well as the waist and even the arms.