Virabhadrasana (Warrior 1) and Utkatasana (Chair Pose)
Touching the Hands Overhead And Squaring the Hips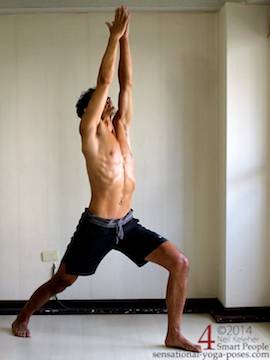 I remember when I first started doing Ashtanga Yoga, and for a good while afterwards, I always used to have trouble touching my hands over my head in poses like Virabhadrasana (Warrior 1) and Utkatasana (Chair pose or Awkward Pose). Even worse was holding my hands together. Some teachers were mean and didn't allow me to interlock my thumbs.
(And that's one of the joys of being a yoga teacher, making students suffer because you know it will be good for them in the long term.)
Are there easier ways to learn to touch the hands together? Hopefully this article can help. Of course it is based on a little bit of anatomy plus doing things in slightly different ways.