Side Angle Pose
Lengthening and Binding in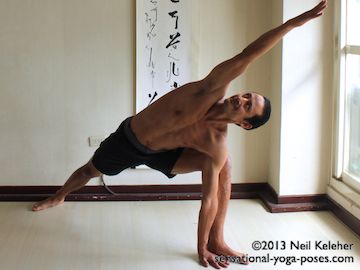 In side angle pose (utthitta parsvakonasana) the side of the body, straight leg and upper arm form one straight line reaching upwards at an angle towards the bent knee side. The shin of the bent knee leg is nearly vertical and you can work towards making the thigh of that leg horizontal so that the knee has a bend of 90 degrees.
You can rest an elbow on your thigh, but push down against your thigh to help lift your ribcage. Or place that hand on the floor either in front of the foot or behind it.
For stronger abs, reach both arms to the side in this standing yoga pose.
Binding is another option that can also increase ab strength as well as test your flexibility and strength.