Warrior 2
Feeling Your Back Arm in Warrior 2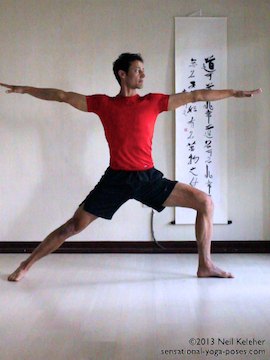 In warrior 2 (or virabhadrasana 2) you stand with your legs spread apart. and your pelvis facing the front. One foot is turned in slightly while the other foot is turned out 90 degrees. The knee of the turned out foot is ideally bent 90 degrees with the thigh level and shin vertical. The other knee is straight.
The pelvis can be level from left to right. However, what is more important is that your hips feel comfortable. The spine is vertical.
The arms reach out from to the sides you look in the direction of your bent knee leg.