Janu Sirsasana B
Place Your Anus On Top Of Your Heel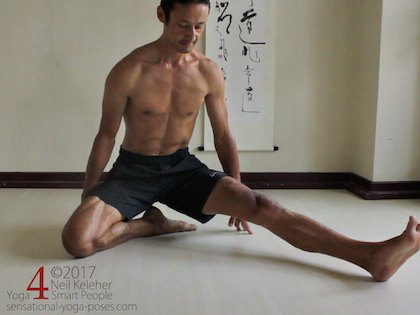 In Janu Sirsasana B one knee is straight while the other knee is bent. To get into the pose you lift your hips and place your anus or perineum (which is just in front of the anus) on top of your heel. And then you bend forwards, towards your straight leg making this a yoga pose a seated hamstring stretch.
In the picture you can see the position of my foot prior to me sitting on it. Some teachers advocate turning the foot so that the toes point in the same direction as the straight leg. Try both options to see which suits you best. I prefer this position because it stretches the top of my foot. However, you may find that pointing the foot forwards makes it easier to position your anus relative to your heel.
Also notice that my right leg is at ninety degrees to my left (if viewed from above.) I've recently experimented with closing this angle to about 70 degrees so that my knees are closer together. This too can make it easier for you to position your anus or perineium directly on top of your heel.
Why might you want to do this? One possibility is to help you become more aware of this area. With your weight on your heel you can practice drawing your perineum up away from your heel. If you have difficulty finding or maintaining this contraction you could try contracting (or lifting) each time you inhale and then relax it while exhaling.