Easy Cross Leg Poses
A basic sitting position for practicing body awareness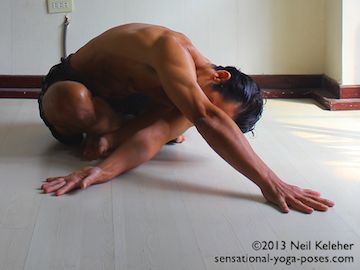 Sitting with crossed legs is a relatively easy position in which to practice some body basic awareness. In addition, you can twist, side bend and forward bend. From this position you can also do arm strengthening poses like a lift up as well as shoulder stretching actions.
If you have difficulty sitting upright with crossed legs, then an option is to sit with one shin folded to the outside of the thigh in a semi-kneeling posture. This is also a good option if you have difficulty bending forwards with legs crossed.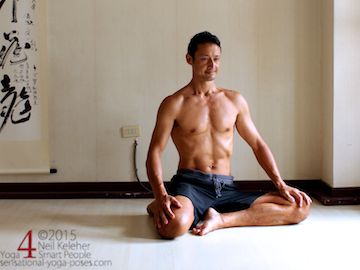 Cross leg poses TOC
Activating the Hips While Sitting Cross Legged
One action that you can practice in any cross legged pose variation is pressing down through your feet. If you press down either foot you may find that you get a feeling of tension and/or muscular activation along the outer edge of the shin and the thigh. You may also find that your buttock activates. And this is one reason why I like to press the foot (or feet) down. It's a way of activating the hip and leg muscles.
If I have knee discomfort, I'll tend to focus on pressing down with the front foot only. The knee of this foot tends to be under less stress when sitting cross legged. In addition, I'll alternate which foot is in front. Often times people get used to having one leg habitually in front. Switching which leg in front can feel weird initially but with practice, particularly pressing the foot down, it can gradually feel more normal. It's also a way fo spotting problems with the knees or hips, and also of noticing positioning of the feet when sitting cross legged.
For myself I tend to sit with the left foot in front. Sitting cross legged with the right foot in front felt very strange initially and just not the same. And so I would switch back and forwards to figure out exactly what I did with each foot and knee on my normal side so that I could try to do the exact same thing with the other leg in front.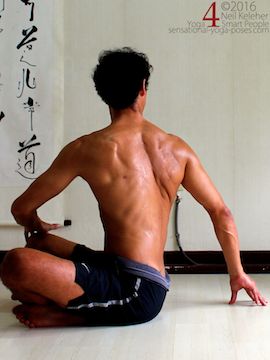 Hip stability can be very beneficial when doing any sort of twists but with the foot pressing action it can be easier to create in a cross legged twist.
If twisting to the right I'll have my right foot in front, then twisting to the left I'll have the left foot in front. In either case, I'll often focus on pressing the front foot down, so that the outside of that leg and the hip all feel engaged. Then I'll lengthen the spine (or have my students lengthen their spine) and then from there, with the spine long, (and the front foot pressing down) try to deepen the twist.
You could try twisting to the right with the left foot in front. In this case try pressing the left foot down, lengthen your spine, then deepen the twist. I'd suggest here, don't be afraid to experiment. You can try pressing the front foot down, then the back foot. In each case, notice how it feels. You may find that one particular action is more helpful or feels better than others. You may also find that what helps changes from day to day. So the more you experiment, the easier it is to find what will work for you at the exact moment you are practicing.
Note that often I'll have students place their hands on their knee and the floor, and while it can be easy to use the hands to help deepen a twist, with a focus on lengthening the spine, the same muscles that activate to make the spine feel long can also be used to deepen the twist.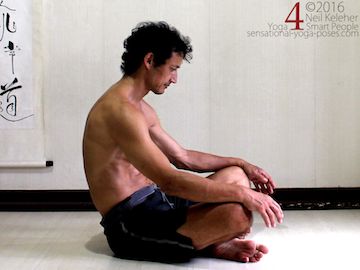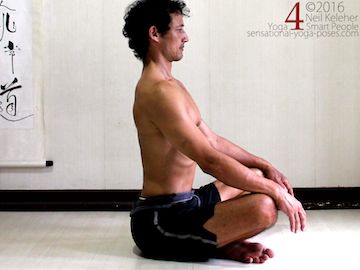 As a prelude to spine lengthening, one exercise I like to do while sitting cross legged is rocking the pelvis backwards and forwards. I'll often use the sacrum as a reference. Lifting the sacrum (so that the pubic bone moves down) causes the pelvis to rock forwards. It also causes the curve of the lumbar spine to be accentuated.
This does depend on how easy it is for you to sit upright while cross legged. If you can't even sit upright, then rocking the pelvis forwards just reduces the amount of forward bend in your lumbar spine.
Dropping the sacrum so that the pubic bone lifts causes the lumbar spine to flatten or even to assume a forwards curve. And so one idea of tilting the pelvis backwards and forwards is that it can help you become aware of your lumbar spine.
But to start with focus on feeling your sacrum lifting and lowering. Then move your awareness to your lumbar spine and feeling it bending backwards and forwards.
When you lift your sacrum you may notice a feeling of tension along either side of your lumbar spine. This would be your spinal erectors activating and so one exercise idea for improving body awareness or proprioception is to carry this tension up into your thoracic spine each time you lift your sacrum.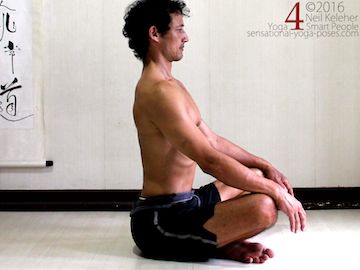 Once you have a feel for your sacrum and your spinal erectors, (at least the lumbar and thoracic spinal erectors) you can then focus on lengthening your spine. I'm skipping a few details here, but the important thing is being able to feel your spinal erectors activating. Sitting up as tall as possible, as it trying to push the crown of your head (or a point just behind your crown) upwards away from the floor, see if you can do it in such a way that your spinal erectors activate. In stead of using them to bend the spine rearwards, use them to help straighten your spine.
You may find it easier if you focus on your neck, the back of your ribcage and then your lumbar spine. Work either from the top down or the bottom up. But in each case try to generate sensation in each part of the spine you are trying to lengthen.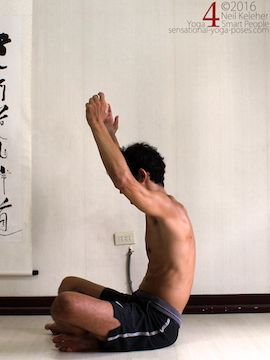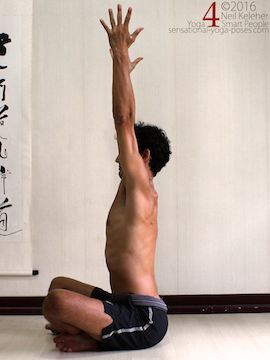 Once you can make your spine feel long, you can reach your arms up and make your arms feel long also. Imagine trying to touch the ceiling with your finger tips so that you have sensation in your shoulders, elbow, hands and fingers. Make your spine feel long first, then, keeping your spine long, make your arms feel long also.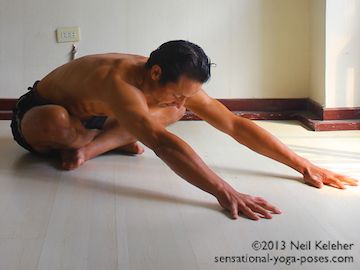 Bending forwards while sitting cross legged isn't always the easiest thing. Here again I'd suggest pressing the feet down and also lengthening the spine.. Do it with your breath. Press your foot or feet down while inhaling then relax while exhaling. If you find your breathing is too fast then focus on slowly pressing your foot down, and the slowly lengthening your spine. Breathe naturally, or as relaxed as possible letting your inhales and exhales happen naturally while you hold your spine long and your feet active. Then slowly relax your spine and your feet.
Here again practice with one foot in front, your usual foot, then sit up and switch feet and bend forwards again but with the other foot in front. Adjust your foot position as needed (and foot pressure) so that your knees and hip stay comfortable.
To lengthen your spine while bending forwards, first lift your head and pull it forwards and up. Keep the chin towards your chest and focus on lengthening the back of your neck. Then open the chest slightly as you lengthen your thoracic spine. And try to pull your ribcage away from your pelvis, slightly, to help make your lumbar spine feel long.
If you can't bend forwards then do this exercise while sitting upright with legs crossed.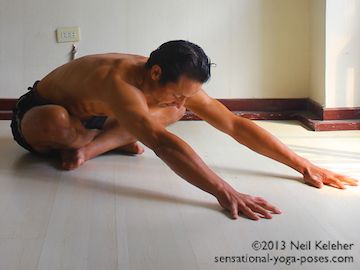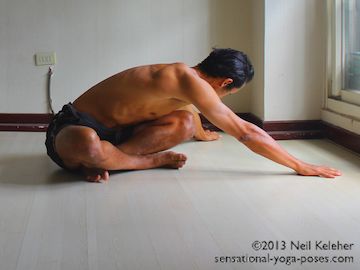 While bent forwards, you can bend your spine to the side. Sweep your chest along the floor to the left or right, moving your hands with your chest. If bending to the right you may find it helps to reach your left hip back slightly. Try to lengthen the left side of the waist and even the left side of the lower back.
Pay attention to which foot is in front. You may find it easier to bend to the right if your left foot is in front. But rather than taking my word for it, try both options and use the one that feels best.
And even though you are bending to the side, try to make your spine feel long anyway.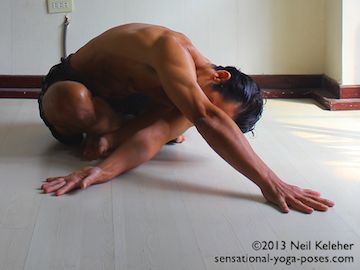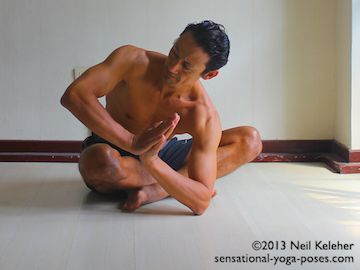 Another option while bending forwards with legs crossed is to twist your spine. To twist to the right you could reach your left arm across the front of your body to the right. Turn your ribcage to the right at the same time.
You can reach your left arm forwards and lengthen your spine but also the right side of your body.
Another option is to turn to the right, put your left elbow on the floor. Push the elbow down to help lift and twist the left side of your ribcage. Then put your hands together so that you can press your right hand down against the left hand to help lift and twist the right side of your ribcage.
Here again, make your spine feel long.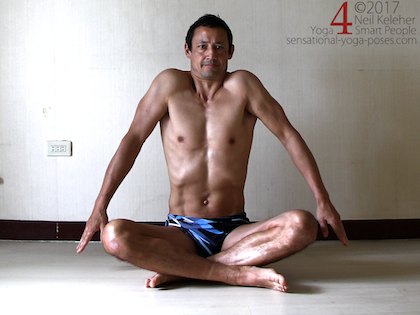 Scapular awareness, or a lack thereof, tends to be a problem with a lot of new students and this is something else that can be practiced while sitting cross legged.
The exercise can very simply be to lift the shoulders as high as possible, pause, and then lower. You may find it easier to lift them high if you make your neck feel long first.
Sometimes I'll practice this with arms down, other times with arms up (keeping them up while lifting the shoulders then letting the shoulders sink back down.)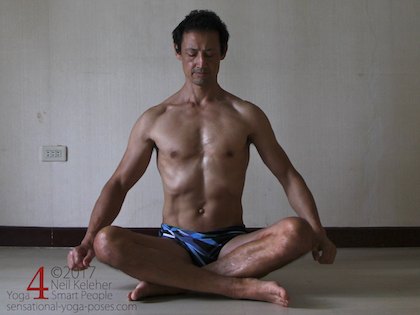 The complement to this is depression. The feeling here is of pulling the shoulders down. The amount of movement won't be as great as elevation, since the ribcage is in the way, but it is a movement that can generate sensation as the shoulder depressors activate to help pull the shoulders down.
i Why Make Your Spine feel Long?
When you make your spine feel long, muscles of the spine activate to create sensation. Those same muscles that create sensation or feeling also help to support your spine. So making your spine feel long is one way of activating the spine to help keep it safe.
In the case of elevating the shoulders, lengthening the spine, or at least the neck, gives the muscles that elevate the shoulders (the Trapezius Muscle a stable foundation from which to act. It also helps to lengthen that muscle slightly before the shoulders are lifted, giving it room to contract.
Published: 2016 01 07
Updated: 2021 01 24