Janusirsasana A
Stretch Your Tight Hamstrings One Leg at a Time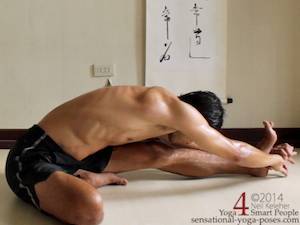 Janu Sirsasana A, B and C can all be thought of as seated yoga poses as well as hamstring stretching yoga poses.
In all versions of this pose one knee is straight.
The other knee is bent with the shin folded to the inside of the thigh as opposed to the outside.
(In half hero pose or "triang muka eka pada paschimotanasana" the bent knee shin is folded to the outside of the thigh.)
In the "A" version of Janu Sirsasana the foot of the bent knee is placed against the inner thigh with the heel (ideally) close to the groin and the outer edge of the foot flat on the floor.
In the "B" position of janu sirsasana the foot position is similiar except that you sit on the heel of your bent knee foot.
In the "C" variation of janu sirsasana the sole of the foot is again placed against the inner thigh but the foot points downwards with the ball of the foot on the floor.
In all of these variations, you can bend forwards once the foot is in position.
Note that for the C variation, you might choose to remain upright until you get used to the position of the foot and knee.
When bending forwards you can a foot or wrist and then use your arms to pull your ribcage towards your foot to create space and length in your body.
Try to do this without compressing the hip joint of the leg that you are stretching.