Hamstring stretching yoga poses
With muscle control suggestions for improving hamstring flexibility
Hamstring stretching yoga poses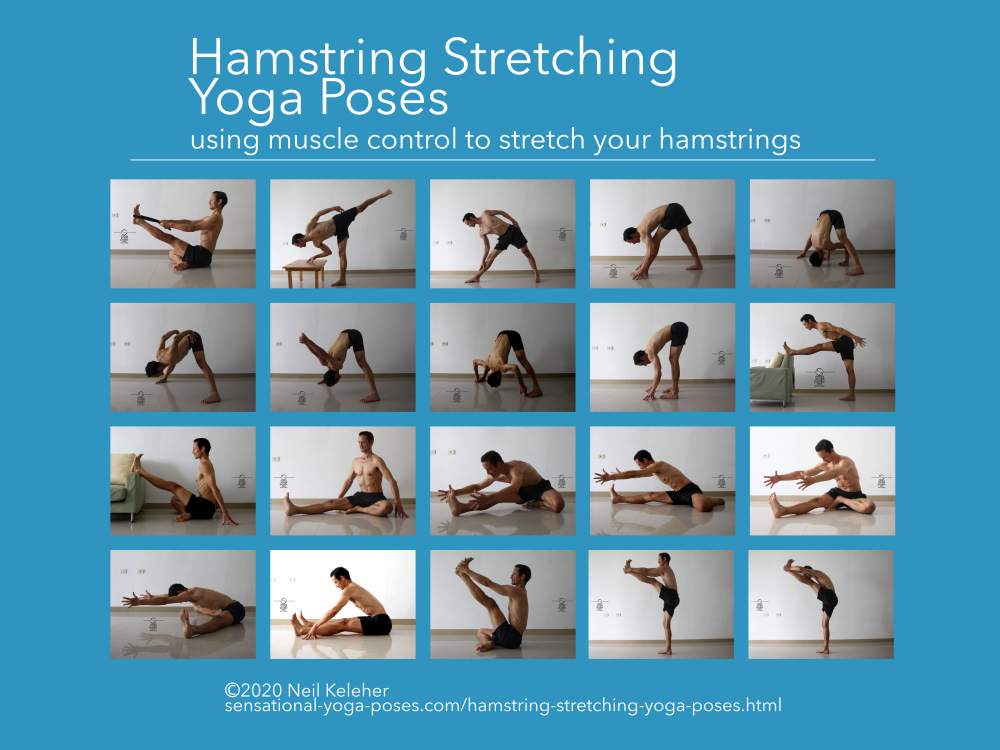 The hamstrings are the muscles that run up the back of the thigh. They act on both the back of the knee and the back of the hip.
If bending the hip forward with the knee bent, only the hip extensors (the muscles at the rear of the hip joint) are stretched.
If bending the hip forwards with the knee straight then the hamstrings are stretched.
Hamstring stretching yoga poses TOC
Note that you could define the hamstrings as the muscles at the back of the thigh. You could be more strict as above and say that they are the muscles at the back of the thigh that act on both the knee and the hip. This would include the biceps femoris long head, semitendinosus and semimembranosus.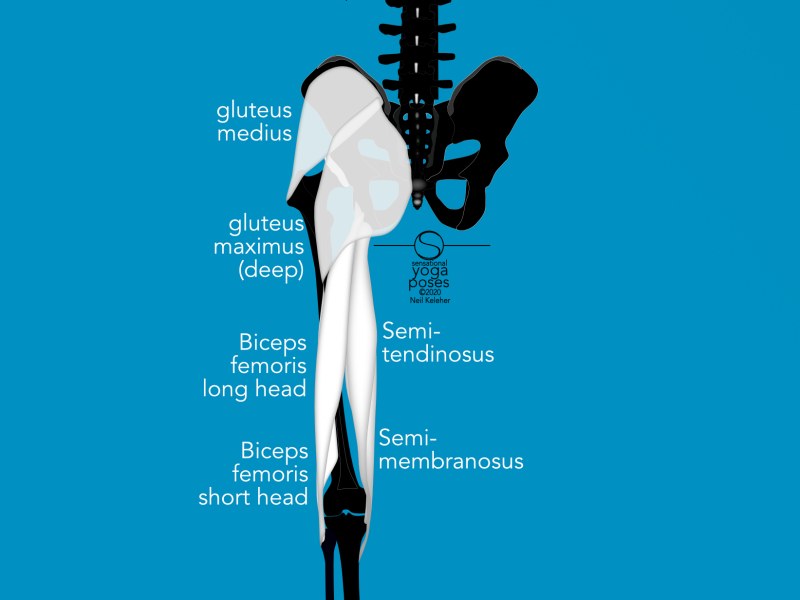 Based on this definition, the biceps femoris short head isn't a hamstring because it only acts on the back of the knee. Note the picture above also includes two other non-hamstring muscles: the deep portion of the gluteus maximus as well as the gluteus medius.
For any muscle, it can help to provide it with an anchored end point so that you can control it effectively. This applies whether you are stretching a muscle or strengthening it (or simply using it).
One way to anchor the hamstrings is to stiffen the feet and ankles.
Whether standing or sitting, this helps to unify or integrate the bones of the feet and lower legs so that they can anchor the bottom ends of the hamstrings.
Because the shin bones (fibula and tibia) can rotate relative to the femur, (and they can also rotate relative to the feet) stabilizing the shins agains rotation can be a part of anchoring the lower attachment points of the hamstrings.
Hamstring stretching yoga poses can be divided into three main groups. There are hamstring stretching yoga poses where the foot (or feet) of the leg being stretched is bearing the weight of the body. These generally consist of standing yoga poses. There are also hamstring stretching poses where the feet aren't bearing weight. These are generally seated yoga poses. Then there are poses where instead of tilting the pelvis relative to the leg to stretch the hamstrings, the leg is moved relative to the pelvis. While this group can include both seated and standing yoga poses, it also includes the reclining yoga pose called plow pose.