Prone Yoga Poses
A sequence of belly down yoga poses
On page cat links
Adductor stretch, Bent back hero, Big toe pose, Bird dog extended cat pose, Bow pose, Chaturanga dandasana, Child's pose, Cobra pose, Dog pose, Downward facing dog, Frog pose, Half side splits, Hero, Locust pose, Pigeon, Pigeon upright, Plank pose, Resting poses, Shoulder stretch, Side splits, Twisting, Upward facing dog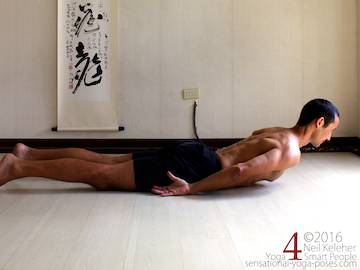 Belly down and prone yoga poses include poses where the belly faces downwards and is either on the floor or lifted.
These poses can be used to strengthen and stretch (and increase flexibility of) the front of the body, the back, the shoulders and hips.
The poses given below are organized into an actual yoga sequence so that you can easily move from one pose to the next. Variations of locust, downward facing dog and upward facing dog have been included to make the actions in the full pose easier to learn. The variations have been separated within the sequence to give the parts of the body being worked on rests by working on other parts of the body.